This week Career Services will be sharing volunteer opportunities in the community, an employment initiative, as well as virtual community events for your career development.  Our previous post highlighted who was hiring during the COVID-19 Pandemic.  Please check it out in case you missed it! 
Remember that Columbia College's Career Services is here to help manage your uncertainty about future career goals.  Please email your Career Advisor, Linus Leow, at lleow@columbiacollege.ca if you require support in any career-related topics.  
Volunteer Opportunities  
Grocery Shopping Volunteer with DIVERSEcity
During the current COVID-19 crisis, more and more people are self isolating and unable to rely on supports through friends and families. DIVERSEcity is seeking volunteers to support a new service.  Volunteers are needed for Food Security Supports for Vulnerable Seniors and Families during COVID-19: Grocery shopping and delivery.
If you are interested, please send an email to volunteer@dcrs.ca as soon as possible with your name, contact information and put "Grocery Shopping Volunteer" in the subject line.
Please note, there are strict protocols in place to ensure the safety of all clients, staff and community members, including volunteers, participating in this service. A successful criminal record check and screening is required to become a volunteer. Volunteers will be reimbursed for the cost of mileage and personal protective equipment (if required).
National COVID-19 Volunteer Recruitment Campaign
The Government of Canada is working with provincial and territorial governments to respond to COVID-19. We are seeking volunteers to help in the following areas:
1. Case tracking and contact tracing;
2. Health system surge capacity;
3. Case data collection and reporting.
We are building an inventory of volunteers from which provincial and territorial governments can draw upon as needed. We welcome ALL volunteers as we are looking for a wide variety of experiences and expertise. Please note that we have included a list of Yes/No questions that you will be asked to answer to so we can better match the volunteer work to be assigned.
Should you be interested in volunteering, here is some key information for you:
• Most of the work can and will be performed remotely from your home;
• Hours of work are flexible and schedules will be established based on needs and availability provided.
Mandarin or Cantonese Speaking Volunteers For S.U.C.C.E.S.S. Help Lines
The S.U.C.C.E.S.S. Chinese Help Line is recruiting committed and responsible volunteers who speak Cantonese and/or Mandarin to provide emotional and informational support to callers.
The Chinese Help Line is a confidential, culturally-sensitive telephone help line that offers emotional support and information and referral to the Chinese community in both Cantonese and Mandarin. The aim of the program is to promote the well-being of Chinese Canadians who are in need of emotional support and are experiencing difficulties in accessing social service due to language and cultural barriers and/or fear of social stigma.
Qualifications Required:
19 years or older
Basic English Level or above
Cantonese or Mandarin speaking (intermediate level or above)
Criminal Record Check Clearance
Must be available for a paid 40-hour professional help line volunteer training
Please call 604-270-8611 if you are interested. 
Employment Opportunity 
Housing Job Match Connecting Job Seekers With Non-Profit Housing Providers
Many hard-working British Columbians have lost their jobs as a result of the COVID-19 pandemic, while many non-profit housing organizations are urgently looking for staff to keep essential services running.
The Housing Job Match website will connect British Columbians looking for work with the non-profit housing and shelter organizations that need their help now more than ever.  We're here to connect out-of-work British Columbians with non-profit housing and shelter providers who are looking for hard-working staff. Regardless of your experiences, there's likely a role for you. 
Please visit this page to sign up: housingjobmatch.ca/looking-for-work
Online Community Events
Fortinet Technical Job Opportunities Webinar
Join Fortinet for an Information Session which will tell you more about job opportunities we have at our sites in Burnaby and Ottawa! We welcome students from Computer Science, Engineering, Internetworking or related backgrounds who can demonstrate knowledge and/or experience in the following areas:
· Web Development
· Embedded Development
· Networking
· Technical Support
· Software QA
· Project Management (Networking)
· Product Management (Cybersecurity focus)
This is an online event which will take the form of a 20 minute information session followed by a Q&A session. We will tell you more about Fortinet (past, present and future) as well as touching on our typical recruitment process, the different positions we are recruiting and what we are looking for!
Date / time: Wednesday 22nd April @ 2:00pm
Please click here to register for the webinar.
Ask a CPA – Online Event for High School Students hosted by CPABC
Are you curious about accounting? Have you ever wondered what it would be like to be an accountant? Join us at this live online event for high school students to hear from the experience of a Real-Life CPA. Learn about what accountants do and where they work, plus you will have an opportunity to "Ask a CPA" your own burning questions about a career in accounting.
Featuring: Christine Bhatt, CPA – Accounting and Finance Manager at FrontFundr 
Time: April 23, 2020 02:00 PM
Please register here: https://bccpa.zoom.us/webinar/register/6415868870567/WN_CZd5PfTcSJapCmLeD-OEpw 
CPABC Info session
Do you have questions and concerns about application into the CPA program?  CPABC are here to help.  Join us for an online question and answer session with CPABC Recruitment staff.  This info session is open to the general public.  
Date / Time: April 23, 2020, 12:30PM - 1:30PM
Register here if interested: events.cpawsb.ca/event/CPAEVENTS-00733
Inside the STEM Industry: a Woman's Perspective in the Current Climate (Online Webinar hosted by Young Women in Business Vancouver)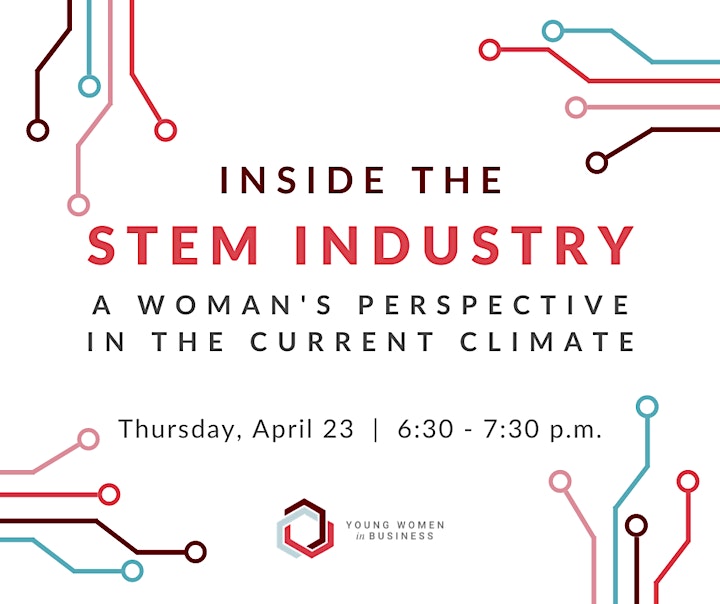 Considering a career in the STEM industry? Wondering what that could look like?
Join YWiB Vancouver on April 23rd at 6:30pm for an online webinar, "Inside the STEM Industry: a Woman's Perspective in the Current Climate".
Get inspired by recruiters, engineers and project managers working in the industry and ask questions!
Discuss the endless possibilities of this dynamic sector and what it looks like during these unprecedented times.
Please register on the Eventbrite page if interested.