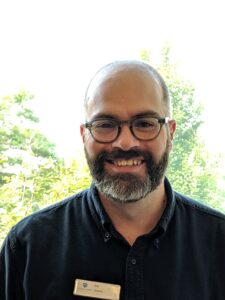 We recently sat down with Joe Haigh, Columbia College's new librarian, to chat about his experience working with students and libraries. Read the interview below to find out what's currently on his reading list!
What is your vision for the CC Library?
My vision of the library is that it's a place for students to expand their idea of the different things they can do with their education. So by giving people a place where they can be exposed to different things that people study or different things that people specialize in, which you figure out by doing an assignment or just hanging out at the library, you can really open people's eyes. Even if people aren't going into an academic track but are going into business or working, it's just really important nowadays to have good research skills. I see the library as providing support to get people up to speed and strengthening their skills.
Students may have certain ideas about libraries should be like. What is your take on how libraries should serve the public or serve a certain purpose?
Right, I think now it's more important to see the side of the library that's more about the services. Through instructional services, we visit classes and help strengthen people's assignments by teaching them how to do research, teaching them how to cite things properly and avoid plagiarism. All of that helps expose people to how information is made. And we see people more as creators of information themselves whereas before, the focus was much more unidirectional. Just kind of a repository for the information, which people would take away and bring back, rather than a resource supporting people creating their own projects. One thing I was really impressed by while reading about the College was the Limitless conference where students present work and issues that are important to them. So I see the library playing a really important role that's not just about consumption of information but working with information, producing new information, new knowledge, sharing knowledge. It's not just the library sharing it, but students.
What are the main responsibilities in your job?
I do lots of different things. So I will be seeing students in their classes to teach about research skills, citation, plagiarism, things like that. Also collection development, so selecting books for the library as well as developing the online collection. Libraries regularly look at new electronic resources and databases, and we may set up a trial to see how they are used and collect feedback. And I will be coordinating the chat reference. When people are doing AskAway, they may not know that behind the screen there are librarians from all over the province. I'll be one of them at certain times. I'll be busy co-ordinating that here. Also, I'll be meeting lots of students to support them in their research with questions about finding materials or developing a topic, or how to format their citations, etc. I'm sure there are many other things I'm forgetting right now. Because it is a relatively small staff, we all do a lot of different things to keep the library running day-to-day. 
Can you tell me a bit about your background and your past experience with working in a library setting? What drew you to want to apply to and come work at CC?
My background has been in public libraries and academic libraries. I've worked at SFU, BCIT, Capilano University, and most recently Langara College. I've worked as a student librarian at UBC. What drew here is that I really like working with students who are in first and second year because it's a really important time to catch them early in their degree when you can make an impact on how they do research and critical thinking, find information, things like that. And also, I can still vividly remember the experience of first and second year, how bewildering it can be. I think the library can play an important role in getting people oriented with how to do their assignments and it being a regular place they go to see some familiar faces, and just a way to integrate people into academic life. I have a background in ESL as well as being a librarian. I was a TOEFL preparation teacher and I really enjoyed working with international students, so this is just a perfect fit for me.
What do you most look forward to in your new job as a librarian here at Columbia College?
I love collections work. I have a lot of experience with collections in public and academic libraries. Working with collections gives librarians a good top-down perspective on what things people are studying these days and what kinds of things people do in their research, which is very helpful when we're talking to students about their research and their topic. I am very much looking forward to applying this background as I find out what students are researching and writing about.
I think there's also a lot of responsibility and power being a curator of a collection.
Yes, that's true. You have to be careful… It's very interesting. For example, in a public library you're responsible for public money, so to be accountable to the public you have to try to envisage all the different types of users. It's similar here I think. You have to try to think of what the needs are going to be of all the different programs and a lot of that comes from meeting with people and listening to people's questions and getting input that way. And we take requests for purchases as well, so that helps inform what we're doing.
What are you reading right now?
I'm always reading more than one book. I'm listening to an audiobook: This is not Propaganda by Peter Pomerantsev who is a journalist who wrote about contemporary Russia in his previous book. It's very interesting and disturbing. For non-fiction, I've been reading Sense and Solidarity by Jean Dreze, an Indian economist. It's a collection of essays about public policy, with a fantastic introduction about combining activism and social science. He calls his approach "Jholawala Economics,"  or "backpack economics." I've also started reading the novel The Idiot by Elif Batuman. 
Oh, I thought you were going to say…
Dostoyevsky?
Yes!
I think she named it after that.
What are your reading habits like? Where do you like to read usually? Do you read several books at once or just one at a time?
I usually have two or three books going at once, including an audiobook. And i usually have something to read when I'm commuting and something to read when I'm at home. So often I read something shorter when I'm commuting, either a paperback or I read ebooks on my phone, and at home I tend to read something longer. I read a lot of non-fiction even though I actually have an MA in English literature. I read anywhere, anytime. I try to read 100 books a year. I got close last year and I count audiobooks as part of that. So yeah, I read anytime I can. I read before bed, I read when I'm commuting. Anytime I'm waiting for something, like an appointment or waiting for the bus. 
Do you have a GoodReads account that staff and students can follow you at?
I don't currently have a GoodReads account. I actually save titles on my phone. In the future you can look for me.
Any final thoughts you'd like to share?
I'm really excited to be joining the College at the beginning of the semester and I can't wait to hear what people are working on and meet all the students here.