Feature Image: Group photo from International Day during Spirit Week Fall 2019
Secondary Spirit Week Winter 2021
Every semester, Spirit Week aims to inspire the student body, create a closer community and boost school spirit at CC Secondary. Student Life has put countless hours into organizing a week we believe will be an exciting student experience here.
Spirit Week in Winter 2021 is the week of March 8. Students can easily participate just by dressing according to daily themes. To get more involved, students can join activities at lunch each day that match the theme of the day. The goal is for students to try new experiences, bond with classmates and have more pride in Columbia College!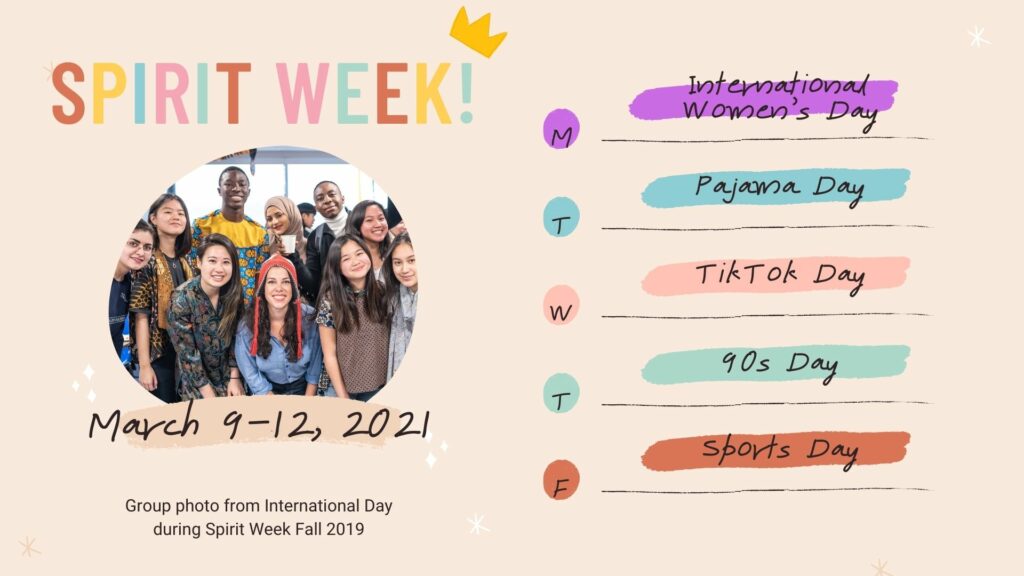 What To Wear
Here are the themes from Monday to Friday, leading up to a special event after school on Friday: CHALLENGE ACCEPTED (read more). Students can compete in a variety of challenges from "Root Bear Chugalug" to "Defying Gravity." Student Life has put a lot of hard work and energy into the planning of Spirit Week and we are excited to see the students have a great week filled with fun and spirit!
Monday - purple
Tuesday - pajamas or lounge clothes
Wednesday - dress like a TikToker
Thursday - 90s style
Friday - sports jerseys, workout wear or athleisure