Congratulations to Asmanai Paiazova, a current Associate of Arts (Business Administration) student at Columbia College, for receiving the Most Outstanding Delegate Award at the annual Asia Youth International Model United Nations (AYIMUN)! The conference, that was held in Malaysia from Aug. 25-28, provides a platform for students to share their perspectives on global issues and sustainable development goals (SDGs), as well as practice their skills in leadership, negotiation, and diplomacy, all while experiencing the atmosphere of a United Nations conference. Read our interview with Asmanai below to learn what her experience was like and what her most memorable moment at AYIMUN was.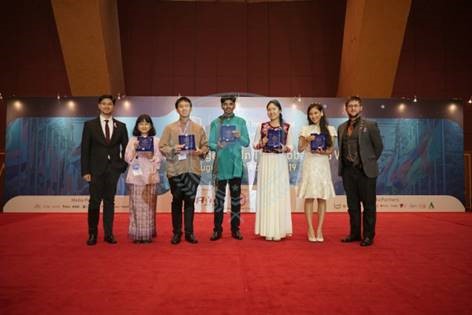 1) How did you hear about Asia Youth International Model United Nations and why did you decide to apply? Were you part of MUN before?
I heard about AYIMUN from my friend who also applied for the conference. I saw that my friend got accepted to MUN and did a little research on it. AYIMUN 2019 was the third annual conference held in Putrajaya, Malaysia with more than 1600 participants from 80 countries. It is basically 3-day simulation conference of United Nations, where each attendee plays the role of an ambassador of an assigned country. They try to find solutions for real-world issues using quantitative information based on discussions, debates and collaborative work. This conference was my first experience regarding MUN in spite of the fact that I have always known about it. I never had the time or chance to participate in such events, so I thought it was the perfect time to start my MUN journey. In addition, lately I have been interested a lot in Political Science which from my opinion also influenced my decision. 
2) What was your role as a delegate? Were you part of a committee and/or representative of a country and if so, what position did you take on a certain topic?
I was representing Kyrgyzstan at the United Nations Conference on Trade and Development (UNCTAD). Our topic was precisely targeted at the solutions of strengthening Free Trade Agreements (FTAs) in developing and developed countries based on the case of Brexit as well as reducing weak states' risks in terms of Trade agreements. Brexit is an exit of the United Kingdom from the European Union.
3) Besides debating on important global issues, what was participating in AYIMUN like?
First of all, AYIMUN was an excellent platform for meeting new people, making new connections, and broadening my outlook. I met so many people from different countries who were ambitious and goal-oriented, and who believed in what they were doing. It surely gave me greater motivation to develop myself on a personal and professional level. Second, I cannot forget to mention food. I am always interested in trying new things and Malaysian food was one of such things.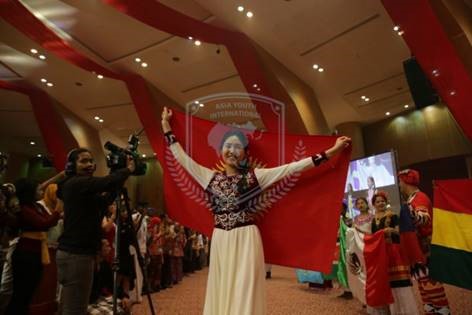 4) What was your most memorable moment at AYIMUN?
At the closing ceremony, there was a national parade where a number of the countries' delegates went on a stage wearing their traditional costumes and holding flags in their hands. Since I was the only one representative from Kyrgyzstan, I participated in the parade. At that moment, when they called my name and my country, I felt extremely proud and happy for my country. It inspired me to aim high and never give up. That feeling left an unforgettable footprint in my memory.
5) What is one thing that you have learned or would take away from this experience?
Never stay in one place. Always move towards your goals. If you do not have any goals, then set new ones and achieve them. Believing in yourself is not enough, you have to act.