If you're searching for an eco-friendly food/drink vendor on the streets look no further than Coffee Bike which was started by a CC alumnus and UBC grad! Vladislav Priadko studied in Columbia College's University Transfer program for five semesters between 2012 and 2015 before graduating from UBC's Sauder School of Business with a business degree and diploma in entrepreneurship.
Catch Coffee Bike at three locations across Vancouver, specifically Olympic Village, Railtown, and Columbia College. Coffee Bike will be selling coffee, other drinks, and pastries (including piroshki, a Russian puff pastry) at the College from Sep. 9 to 20!
Tell me about your journey after you graduated from UBC. How did Coffee Bike start?
I was about to graduate from Sauder School of Business and I had two choices: either I stay in Vancouver, Canada and pursue an entrepreneurial career or go back to Russia and work in my family's business. So after discussing the pros and cons with my family, I decided to stay in Vancouver. 
I started my personal training business after I graduated from Sauder. Before that during my school time I had been a personal trainer at Steve Nash for 4 years part-time. So that added up pretty quick and I managed to get my clients and social media, and also started my YouTube channel which I plan to resume in the near future, but it helped me get on my path and become a self-sustaining individual in Vancouver. 
At the same time I was actively researching different ideas just because I was realizing that personal training only gives me a certain amount of hours a day and I cannot do more than that. I was looking for something that I can scale on multiple locations. So there's a website called Kickstarter. I found a Swedish-based company that makes coffee bikes. So I liked the idea and after investing and receiving the final product, it was garbage. It was a push-style cart. It took me more than one year to get the approval from the government. My biggest mistake was buying something and investing all my money, and only after that going to the government to figure out what I should do to do business in Vancouver. It was a lot of trial and error and 8-10 hour lineups at City Hall just to get a single answer to a question, and every time there's a question there's no favours.
After one year I finally got my business approved but the business didn't work out. The cart was not mobile. It was a push cart. Pretty much all I could do was travel horizontally. I did this for two months and decided that this wouldn't work if I wanted to go to multiple locations. So I started to brainstorm how I could execute my concept and found some companies in China that could manufacture the bike base and iron box. All the equipment was made by me and my friend in my garage. Most of the parts are outsourced from parts of Canada, US, and Great Britain. The concept here is environment-friendly street food / food truck. What makes me different is that I don't have a loud generator behind me. It's all solar powered (on the roof). There's an electric battery inside the bike.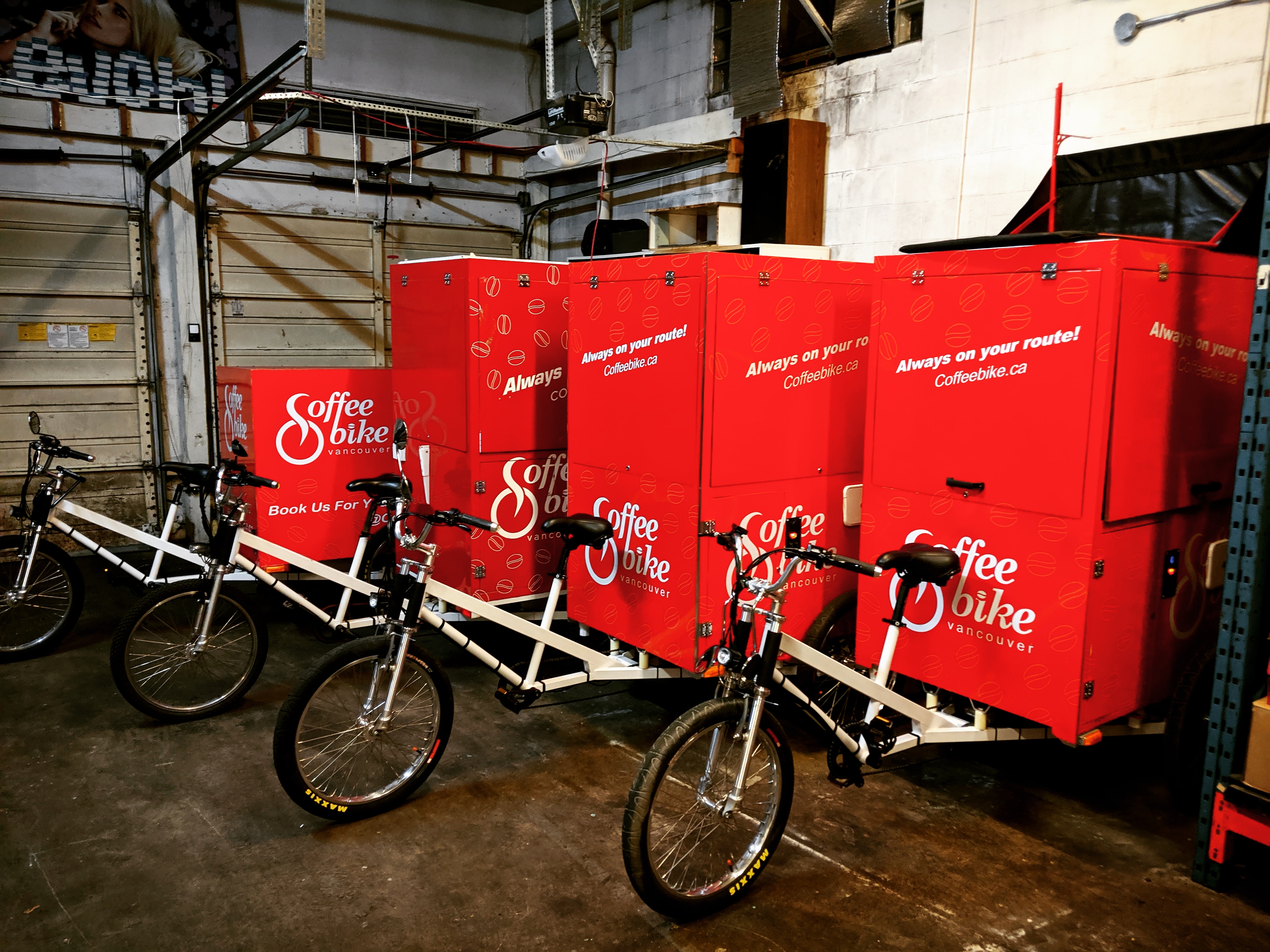 What made you decide to sell coffee and piroshki?
So from a business perspective, coffee has a great market. The cost to price ratio is amazing. And also, I was realizing that I have a knowledge capability to fulfill it technology-wise. So for example, if I decided to do samosas or juice, I won't have enough power to maintain the blender or mixer but for coffee I found it perfect because I could make it without using a generator. I started with cookies, croissants, and scones and I was outsourcing from a local bakery. They were good but nothing special. Every place has those items and you can get them anywhere pretty much. So, one day I decided to ask my friend to bake Russian pastries that were pastries filled with cabbage and mashed potato. These are the most traditional Russian flavours. And I didn't sell them that day. I was just sampling them by cutting them up into small pieces and giving them to my regular customers. And after that day, every single person who tasted it bought a piece. So I realized that I found my next selling item. So right now my pastries outsell the coffee. Probably 60% of my sales are pastries and 40% are drinks. 
I know that you can't get piroshkis anywhere else in Vancouver as of my knowledge – at least from a food truck. The closest place that sells them would be in Seattle. I believe, that as a Russian individual who's been to quite a few Russian and Ukranian-based food places in Vancouver, I've never seen a piroshki anywhere in the city. So I decided to experiment with these flavours by adding more Western flavours to the piroshki, such as Nutella or scrambled eggs, and people loved it. On social media, sometimes I do this game where I put two flavours against each other and make people vote for one or the other. Then by the end of the day, I made a special flavour that's the people's choice. That's pretty popular. People like to play those games.
What's the most popular flavour?
For the sweet piroshki, it's caramelized condensed milk. And for the savoury one, it's mashed potato. Just a few weeks ago, I started to add melted cheese which makes it taste better.
How many people are employed at Coffee Bike?
Right now I'm employing two people and they're not really employed – they're contractors. So since I'm a really small company I don't see a big reason to open up to external employment under my company. I can see this happening at the scale of 10 bikes where a stable amount of people would be working for me but now the turnover is really big. People come and go and they do a summer at a time. So contractors have been working for me for the last couple of months and they are paid minimum wage. But they get cash tips and half of the electronic tips. People love supporting small businesses and they love to support environmentally friendly concepts. I've had a case where I get $3 tip for $3 coffee. So by giving more of my tips to my baristas I want them to sell more coffee. At the end of the day my baristas get $18-20 per hour after tips. They are responsible for their tax payments.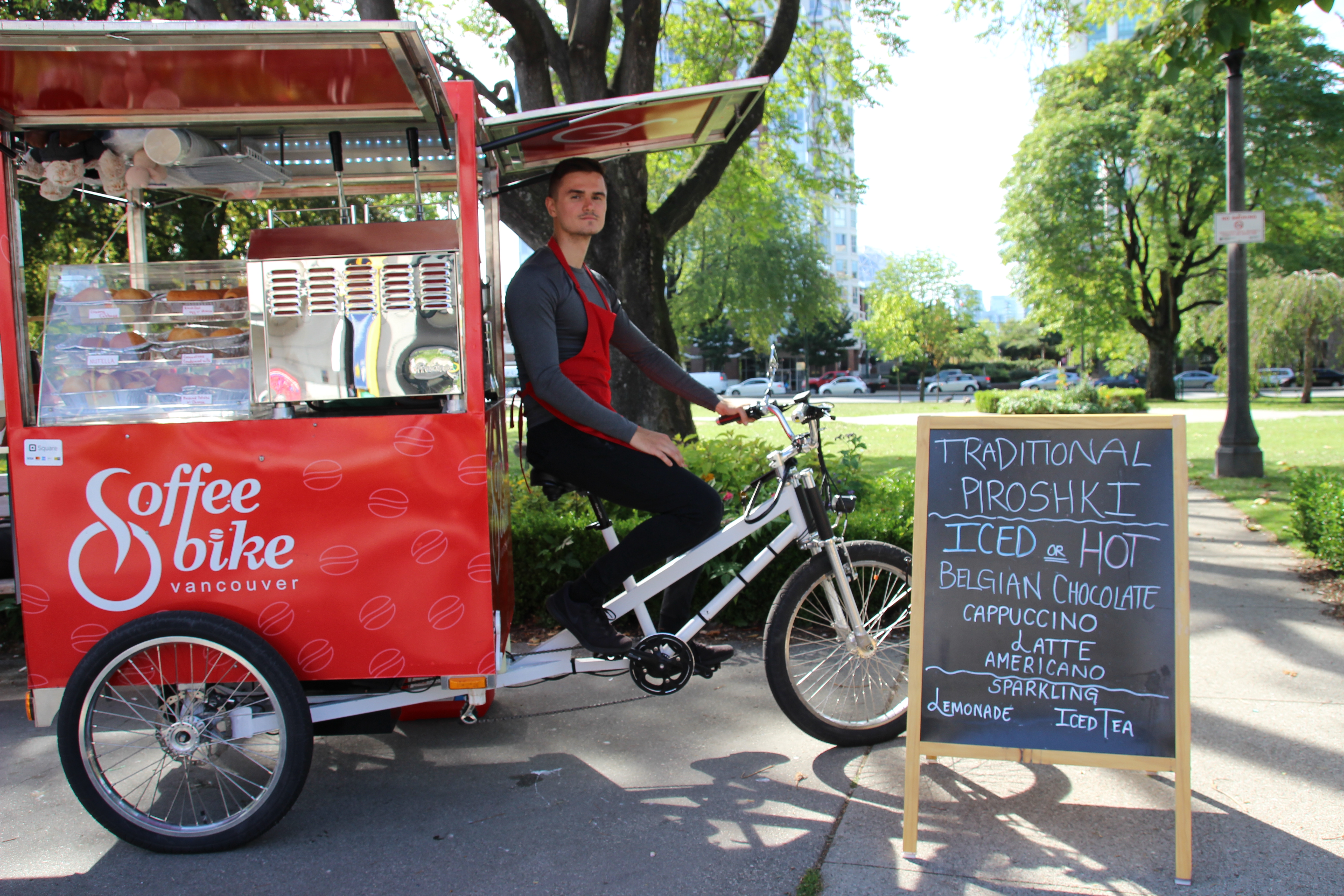 What's your vision?
So right now I still do my personal training job almost every day. For franchise, I don't see myself selling one bike to one person. I want a master franchise in a smaller city of BC like Kamploops or Kelowna and to find someone who can manage five to 10 bikes in a smaller city. Eventually I'd get to the bigger cities. I want to occupy cities in BC first because I know most of the regulations by heart together, then eventually look at other cities across Canada who may have different regulations for bikes. 
And in the meantime, I never want to just focus on coffee bikes. I always want to explore new designs or concepts of the same bike but sell other foods too such as bubble tea or tacos. Anything that I have the technology or energy capacity to fulfill the bike's business. As a dreamer, I don't want to stick with just bikes. Whatever opportunities I would face throughout my journey, I'm always willing to try something new.
What advice would you give to CC students who are thinking of going into the entrepreneurial field and wanting to open a small business like yours?
When I was in my final year at Sauder, I was focused on going back to Russia and my family's business. I completely forgot about the concept of networking. Whatever it is, whether you're in the marketplace, the gym, in a college, at university, seeing people every day, you have a chance to meet someone important in your future life. And for an entrepreneur, especially in Vancouver where everyone knows everyone, it's important to meet new people and come up with an idea and a good business plan that you want to share with them. 
If you feel that you have a good business plan to fulfill that business idea, go do it. There will be–and I still have a lot of people who say this every day– those that say that this business idea will never work on the bike, that I will never be able to sell coffee on a bike or that the rain will destroy my business, you know, I cannot compete with Starbucks etc. etc. But here I am just with my coffee bikes and hoping to build more. So have an idea, believe in it, and don't listen to who I call the "naysayers"–people who say, no, no, no. Only listen to people who have actual experience in your field or in the field which is related to yours–and business-oriented people. That's what's most important. 
The second thing is, in Vancouver if you live on your own and you're the one who pays for everything, then you have to have in the beginning a safety pillow. In the beginning, if you decide to pursue an entrepreneurial career, there are two options: you either have an investor if you're lucky enough (people who believe in your idea and are willing to give your money for some share in your company) or you do it yourself with your parents' help. I was fortunate enough to do it with my parents' support in the beginning. I would say, start small, but at the same time have work elsewhere. For example, I'm a personal trainer as well. I'm not saying do this all your life. Just that at the beginning, we think that all our ideas are great. But every idea you think about someone has done it before or has thought about it. That's my advice. And keep showing up every day. Like for the last nine months, I've woken up at 4:30 every morning and 6 am Saturdays and Sundays. I only have a couple days off each month. And that's a huge part of business development because you want to show people you're consistent and reliable. That's reflected in my coffee business–I have to be in some spots every day and not be late–I need to be there for people who go to work and expect me to be there from 9 to 10, from 6 to 7. Always be everywhere on time.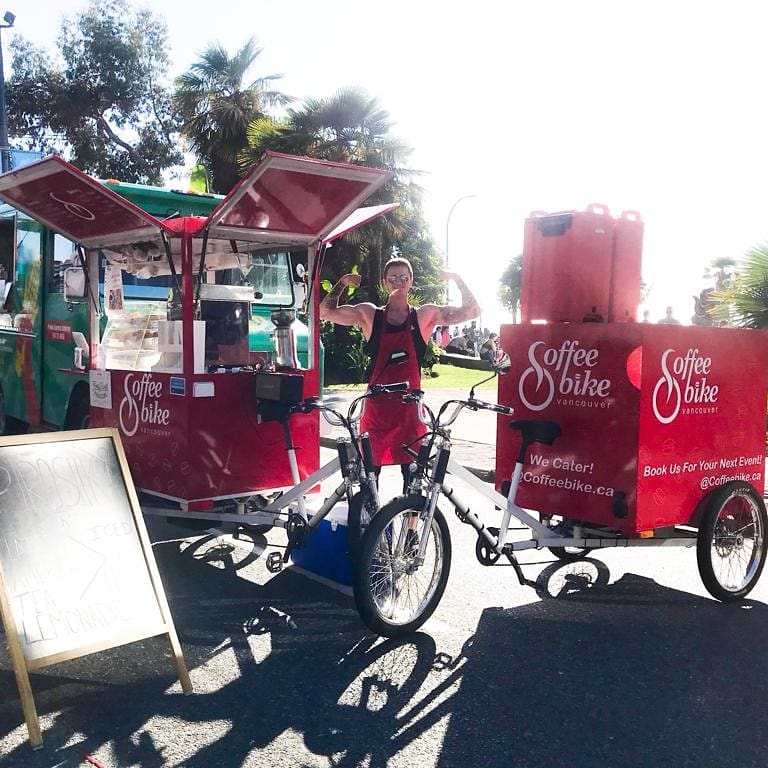 What's one of your best memories from Columbia College or the best advice from a teacher there?
I used to sell samosas and ice cream back when I was a Columbia College student in the CC Entrepreneurship club. We would give all the money to Fatin afterwards. He gave me some sort of understanding of how money works and inspired me in that way. As a student who spent much of his parents' money, it's hard to understand how money appears when you're younger. So the basic understanding of "money in vs. money out", I got at Columbia College. As an example, having a small budget to buy samosas and ice cream and selling them at markup prices, and when you deduct that from the cost of what you purchased them for you get a profit. That's the most basic and generic business formula. That's what I learned at Columbia College. 
Some funny stories I remember… I was very much more into fitness as a student more than I am now, so I was always carrying a small fridge with my meals every day to school. I always had five to six meals with me for the whole day. A lot of the time, Fatin would stop the class and say, "Okay, time out–everyone rest, Vlad needs to take his meal." So he would give everyone a 5-minute break just so I could have my meals. That was nice. 
Why do you want to sell your piroshki and coffee at Columbia College?
It's strategically wise, I think. There's no coffee shop around. The closest one is Starbucks. From what I've heard, the demographic at Columbia College is different from what it used to be so there might not be a huge appeal for coffee. But I still want to have a trial run before starting any official agreements. What I'm confident at least is that for employees at Columbia College, there is a big need for coffee, cappuccinos, Americanos, and lattes. And spending 20-30 minutes walking to and from Starbucks, that's a waste of time. People have breaks, but they have to take more just to fill energy requirements. So first is the location: no coffees around. 
Second, is my personal relation to Columbia College as I'm an alumnus. I decided to go back to where I started my Canadian journey. My semester was the first one at the College when it first opened at its new (now current) location on Terminal Avenue. I was witnessing the transition from the downtown campus to the Terminal campus. 
And the third reason, giving an opportunity to students to have on-campus work. From what I've heard there's not of opportunities for students to work on campus and some work permits don't allow students to work off campus. It takes quite a bit of time to solve this issue and some students just give up this opportunity to gain work experience.
Any last words?
A big thanks to Columbia College and the Vice-Principal Dr. Louie for this opportunity. Throughout this journey, I had a lot of support but I also had push back. I was knocking on doors, writing emails, and calling people offering my idea but it was hard to get a reply. People are so busy and not really paying attention to smaller businesses, so the fact that Columbia College was willing to accept me as a vendor is a really big move for me and I'm thankful for that. See you on Sep. 9!