Update (March 7, 2019):
Important Information for Attendees:
Interested in attending Limitless? Register for the conference here.
Important Information for Volunteers:
This semester, we have great volunteering opportunities available to all students at Limitless. There are 15 spots available.
These volunteers will support us in directing and checking in attendees and presenters, and supervising the conference space.  Students wishing to take part in this opportunity must be available on Friday March 15th from 9 am to 5 pm.  Note: Columbia College is closed on Friday March 15th. 
We often get a lot of applications and will use the information below to select the best candidates.  Take your time to make sure this is a good application so that you have a better chance of being selected. 
You should attend a mandatory training session on either Monday Mar. 4 or Tuesday Mar. 5. 
The deadline to apply is Monday, February 25th at 5 pm.
APPLY HERE: Limitless 2019 Volunteer Opportunity
Important Information for Presenters: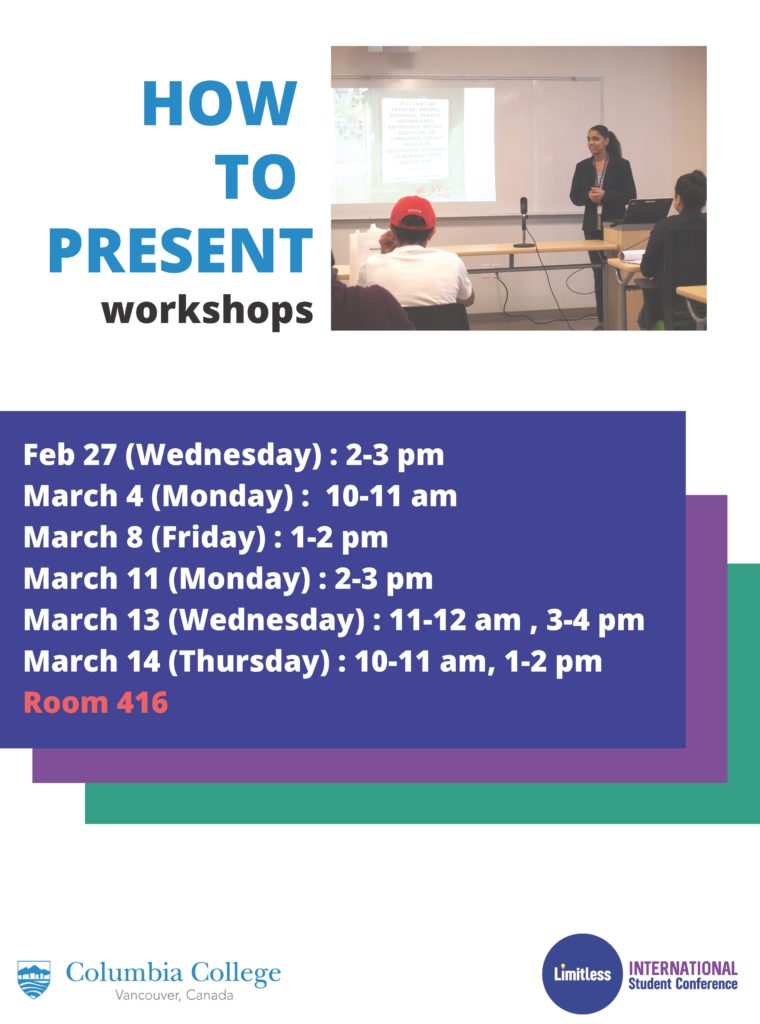 —

For more information including grading rubrics, student checklist, and links to resources, check out the Columbia College Library's Libguide!
Call for Abstracts
After the huge success of Limitless 2018, we are inviting you to the 2nd year of Limitless, Columbia College's annual student conference. The goal of the conference is to celebrate student excellence in academic scholarship, as well as to equip students with the practical tools and skills they need to succeed in today's job market. This year's theme is Imagining Brighter Futures in a Connected World. We invite you to submit papers on how our capacities to relate to one another and build connected communities are impacted by today's social and political climate shaped by the forces of globalization and technological innovation.
We welcome submissions and perspectives from all fields within or beyond these themes. Similar to last year, students will be presenting academic essays, research, or creative multi-media work that envision a brighter future in a connected world. Your abstract should be 50 – 100 words summarizing your main topic and the form of your final presentation to [email protected]umbiacollege.ca by February 6th, 2019. Once approved, you'll receive an email invitation to participate in the conference and will be required to submit a 1000-1200-word paper or creative project report on March 6th 2019. If you have any questions or concerns please do not hesitate to email [email protected] 
---
Judging Criteria 
Judging Criteria for Academic Submissions

Score

Content
Paper has a clearly evident argument, or point to make (5 points).
Content is accurate and appropriate for the topic and audience (5 points).
Conclusion summarizes and provides the take-home message (5 points).

15 points
Organization
Information is presented in a logical sequence (5 points). 
Sources are appropriately cited (5 points).
10 points
Presentation Skills
Good posture, eye contact, voice, and presence (5 points).
Visual aids are relevant and informative (5 points). 
10 points
Overall Score
35 points
Judging Criteria for Creative Submissions

Score

Content
Original work that expresses student vision, perspective, and/or values (5 points).
Work reveals student's relevant knowledge of subject (5 points).
Reflection piece explains purpose of creative work, the process, and result (5 points).

15 points
Technique
Work demonstrates awareness of and ability to use the tools and techniques necessary to complete the work.
10 points
Presentation Skills
Good posture, eye contact, voice, and presence (5 points).
Visual aids are relevant and informative (5 points). 
10 points
Overall Score
35 points