Polling will take place for 48 hours from 12:00 pm Monday, January 27, 2020 to 12:00 pm Wednesday, January 29, 2020. Please check your CC email on Monday morning for the by-election poll launch.
This semester, we have 4 open positions. Scroll down for the candidates' individual campaign summaries. Here are the candidates for the Winter 2020 Student Council By-election:
President - filled
Yona Kasito (1st term in position)
Secretary - filled
Clarissa Adrina (1st term in position)
Vice President - open
Thami Atwa
Raito Phan 
Nastaran Ilkhani
Treasurer - open
Edikan Etukudo-Williams
James Vo 
Shayan Keihaninezhad
Social Media Director - open
Pouria Sadat
Jordan Sidney-Dunu
Krina Hariya
Kathy Victoria
Jervin Tan
Charlene Sanjaya
ELC Representative - open
Faith Natukunda
Raito Phan
Ana Taghizadeh
Campaign Summaries
Ana Taghizadeh - Positions: ELC Representative
Hey, I am Ana. Even though I am new to Columbia College, I would like to work with the Student Council and Student Life Coordinator to make the time for students in the ELC of Columbia College more fun! I want to bring and provide events that would enhance fun times at the College. I would also listen to the students and report their needs to the Council and follow up with the Council so that it reports their needs to the school accordingly. Please vote for me and thank you in advance.
Charlene Sanjaya - Positions: Social Media Director
Hey, everyone! My name is Elizabeth Charlene Sanjaya from Indonesia! I'm running for the position of Social Media Director, and would appreciate your vote! Back in Indonesia, there were loads of occasions where posters were needed, from regular subject posters to scientific research posters. From 7th grade, I've been tackling Canva and Photoshop, which is why I am very familiar with them. With my experience and passion, I believe I'm capable of being in charge of CC's social media. Please vote for me!
Edikan Etukudo-Williams - Positions: Treasurer
My contribution to the student council last semester feels well above overrated to me and I have decided to make a difference this time around. I am contesting for the position of the Treasurer and I would like your full support.
Remember,  A vote for Eddy is a vote for every penny.
Faith Natukunda - Positions: ELC Representative
More details to come!
James Vo - Positions: Treasurer
Hello, my name is Vo Minh Quan, or just call me James. As a member of the North Campus Student Council, it is my duty to help you enjoy your time at Columbia College as much as possible. One of the most important roles in the NCSC is the Treasurer. The Treasurer is the person who bears the responsibility of keeping in check the spending of activities for the students such as parties or movie nights. I have experience in this matter as I have worked part-time every weekend as a book-keeper for my parents' company and learnt many valuable things from my parents and my "co-workers." Vote for James as the Treasurer, and I promise that your money is well-spent for the sake of your enjoyment.
Thank you for reading this.
Jervin Tan - Positions: Social Media Director
More details to come!
Jordan Sidney-Dunu - Positions: Social Media Director
More details to come!
Kathy Victoria - Positions: Social Media Director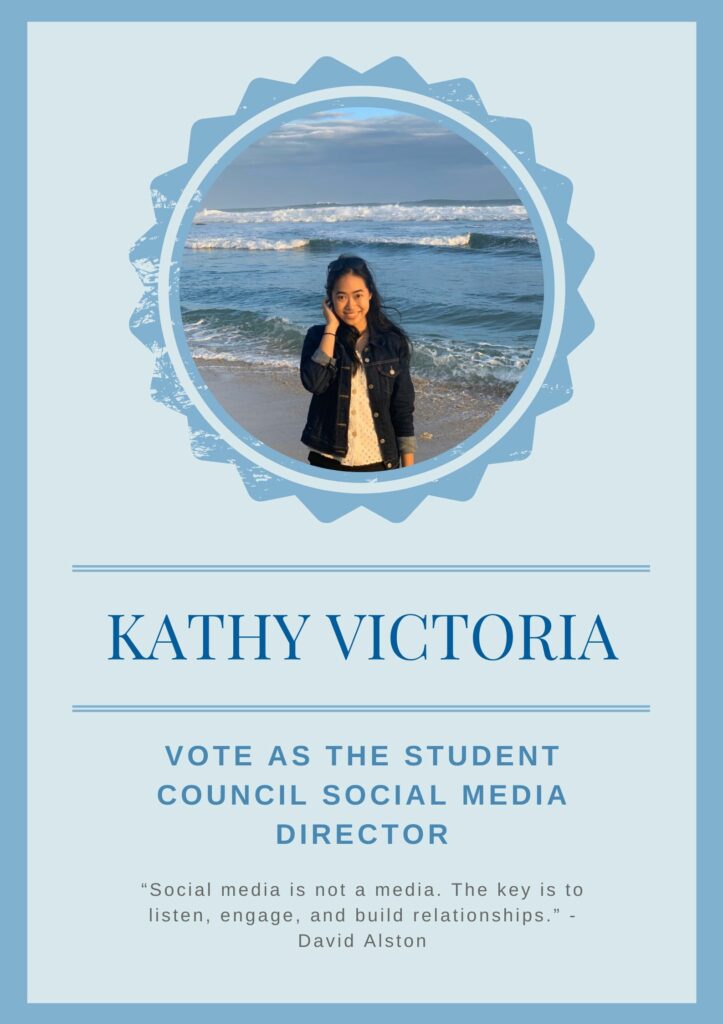 Hello everyone! I'm Kathy Victoria! Nice to meet you all!! I am running for the Social Media Director position in this Winter 2020 semester. I am passionate about my work. Because I love what I do, I have a steady source of motivation that drives me to do my best. In my last semester at Columbia College, I have joined the Student Council and I want to take this chance to improve my creativity and produce great posters as well as manage the school's social media accounts. This passion led me to challenge myself daily and learn new skills that helped me to do better work. For example, I taught myself how to use Photoshop and Canva to create posters to update new activities on North Campus. That is all from me! Your vote would mean a lot to me!
Krina Hariya - Positions: Social Media Director
More details to come!
Nastaran Ilkhani - Positions: Vice President
More details to come!
Pouria Sadat - Positions: Social Media Director
Pouria is studying at Columbia College for his second semester now. Last semester, he found out about the student council a bit late; his friend Niki told him how good it is to be part of the Council and he decided to join it this semester. Pouria used to be a Social Media Director in his previous school back in Iran. He helped the IT section of his school to make an app for the school and he always enjoyed to be part of the Student Council. Now that the opportunity is given, he is running to be the Social Media Director of CC's student council. He has spent a lot of time on his phone and laptop since he was 8. He is skilled in editing photos and videos and using Instagram. He also looks forward to studying computer science at university. Currently, he's managing the @itesla.m Instagram page which is an online shop for mobile accessories in Iran.
Raito Phan - Positions: Vice President; ELC Representative
​​Hi, everyone! My name is Raito, nice to meet everyone. This is my first time doing this.  I know that you will vote for your friend and that's okay. However, I am someone who doesn't like money, I don't try to be famous, I don't hate people and I HAVE NEVER SAID ANY BAD WORDS SINCE I WAS YOUNG. The only thing that I want is for you to have the best time in this school from now to when you graduate. So vote for me if you want and thank you for reading this.
Shayan Keihaninezhad - Positions: Treasurer
More details to come!
Thami Atwa - Positions: Vice President
More details to come!