The library services for instructors include customized information literacy instruction for your class and resources to support your classes, teaching, and interests.
As a staff member at Columbia College, you have access to all of the library's print and online resources, which include print and eBooks, journal article databases, online encyclopedias and dictionaries, and film databases including Criterion and National Film Board (NFB) Campus.
Course Reserves
Every semester, the library obtains a list of required textbooks and places at least one copy on 3-hour reserve for students. If you are unsure whether a text is available on reserve, please contact the Librarian, Krystyna Nowak, or the Library Director, Faith Jones.
Placing Items on Reserve
If a recommended or required reading is not already on reserve for your class, contact the library.
We can place items on 3 hour, 1 day, or 4 day reserve for your class.
Book Instruction
The library offers workshops on a variety of research and information literacy related topics, including:
Using research tools to find sources
Evaluating sources
Narrowing a research topic/question
Avoiding plagiarism & citing sources
Library orientations & tours
Understanding scholarly publishing
The librarians can work closely with you to deliver a lesson that is related to the course and assignment requirements, and which best meets students' needs.
To book instruction, email the Librarian, Krystyna Nowak, or the Library Director, Faith Jones, with the following information:
Course name, number and section
Preferred date and time for instruction
Course assignment – related readings students will have completed in advance of the class are also helpful for designing a relevant lesson.
Desired learning outcomes. Consider:

What do you wish students knew about research in your disciplines?
What mistakes do you commonly see in student work?
What do you want students to have learned by completing the assignment, or which skills do you want improved?
We encourage instructors to book early in the semester to ensure that the librarians are available to teach your class.
The Need to Develop Student Research Abilities
Students new to college, particularly international students, often find writing research papers challenging and assignment requirements confusing.
The library can partner with you to help students build their research and information literacy skills.
According to large-scale research studies by Project Information Literacy (PIL), students at all levels experience significant information-related challenges. View the PIL video below summarizing their research on the search behaviours of today's post-secondary students.
Managing your Account & Borrowing
Setting Up a Library Account
To set up an account, come to the library or email a librarian. Because staff are not issued college ID cards, we usually use home phone numbers as library account numbers.
Loan Periods for Staff
Staff can take out most items for 14 weeks at a time. You can extend the loan period by renewing items, either online or by contacting the library, so long as there are no holds on the item.
Logging into your Library Account
Go to the library catalogue
Click on "Log in" located in the top right corner of the screen
Use your Library Card Number to log in (usually your phone number)
Use the last 4 digits of your Library Card Number as your PIN
Logging into your library account allows you to:
see the items you have out
renew items
save searches and lists of books
Placing a Hold
You can place a hold on books that are checked out to other borrowers by clicking on the "place hold" button on the catalogue screen after logging in to your account. You will be notified when the book has been returned and is ready for you to pick up.
Renewing Items
To renew, go to the library catalogue and click on "Log In" in the upper-right hand corner of the page, and log in using your library card number and your PIN (automatically set to the last 4 digits of your library card number).

Next, click on the down arrow that will appear next to your account, and click on "Account Activity."

From there, you can see all the items you have out on loan. Click "Renew Loan" to renew an item.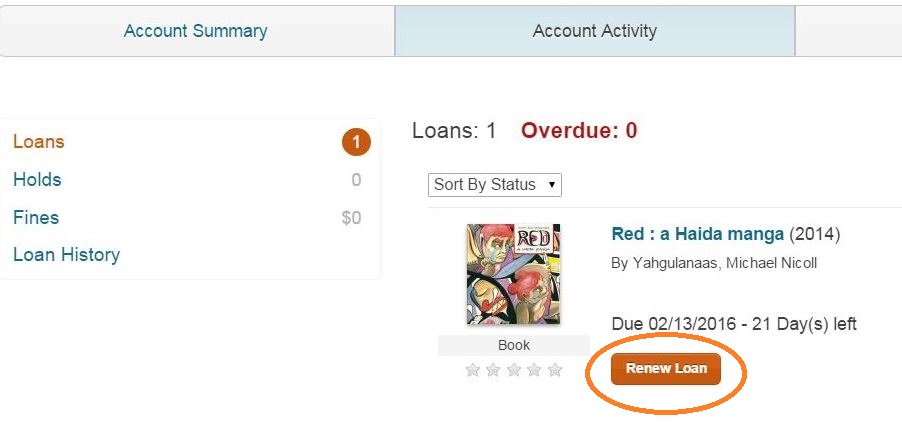 Request an Item for Purchase
The library purchases print & electronic books, magazines, databases, and audio visual materials to support student success. We value the subject expertise of instructional faculty and welcome purchase recommendations for items related to the subject you teach.
Final decisions to add materials to the collection will be made by the librarians based on criteria such as relevance to the curriculum, availability, and cost.
To recommend a book for purchase:
Log into the intranet using the staff login at columbiacollege.ca
In the menu bar, click on Library
Select and click on "Recommend a Book" from the drop down menu
Fill in and send the form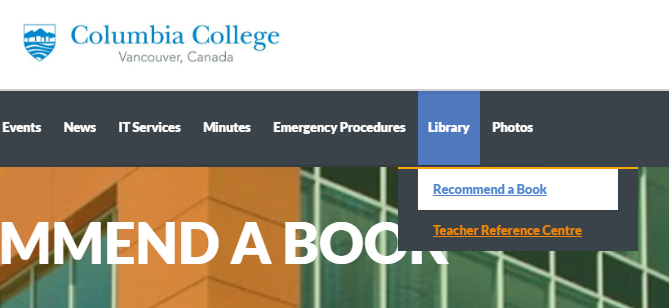 Recommending a database or other resource:
The library provides students with access to a variety of multidisciplinary and subject-specific databases to support their research needs. If you believe the library should subscribe to a database to support students in a particular database, send your recommendation to the Library Director, Faith Jones. Your recommendation will be taken into consideration.
National Film Board (NFB) CAMPUS
What is NFB CAMPUS?
CAMPUS is the National Film Board's educational media portal and includes:
5,200 documentaries, animated films, and interactive productions, including 1,700 exclusive titles
Educational resources such as learning bundles
Study guides
Educational blogs and playlists
NFB CAMPUS features a chaptering tool that allows you to customize films, search tools that allow you to search by subject and grade level, and a playlist tool that allows you to prepare videos for your class in advance.
Films may be showed in classes at no additional cost.
How do I create an NFB CAMPUS account?
To Create a CAMPUS Account:
Access the subscription page
Select Columbia College from the menu
Create a user profile
If you already have a CAMPUS account there is no need to re-register; your account remains active.
Once you have an account, you can access CAMPUS by visiting https://www.nfb.ca/explore-all-films/
Designing Research Assignments
The Designing Research Assignments guide provides you with tips and assignment ideas intended to build your students' information literacy skills. The guide discusses some of the challenges students face when completing research assignments and how you can help them mitigate those challenges.