Update
All Career Services support are currently being conducted online and in-person. Please reach out to Career Advisor, Linus Leow, at [email protected], Tuesday to Saturday between 9:30am to 5:00pm (Pacific Time) if you require support or use our online booking system to set up an appointment.
Make the most of your time at Columbia College and get a head start on your career
Looking for individualized career support? Career Services is here to help you succeed at work during your time at CC and beyond. We run workshops and programs, offer in-person support and provide many online resources to help you navigate your career journey.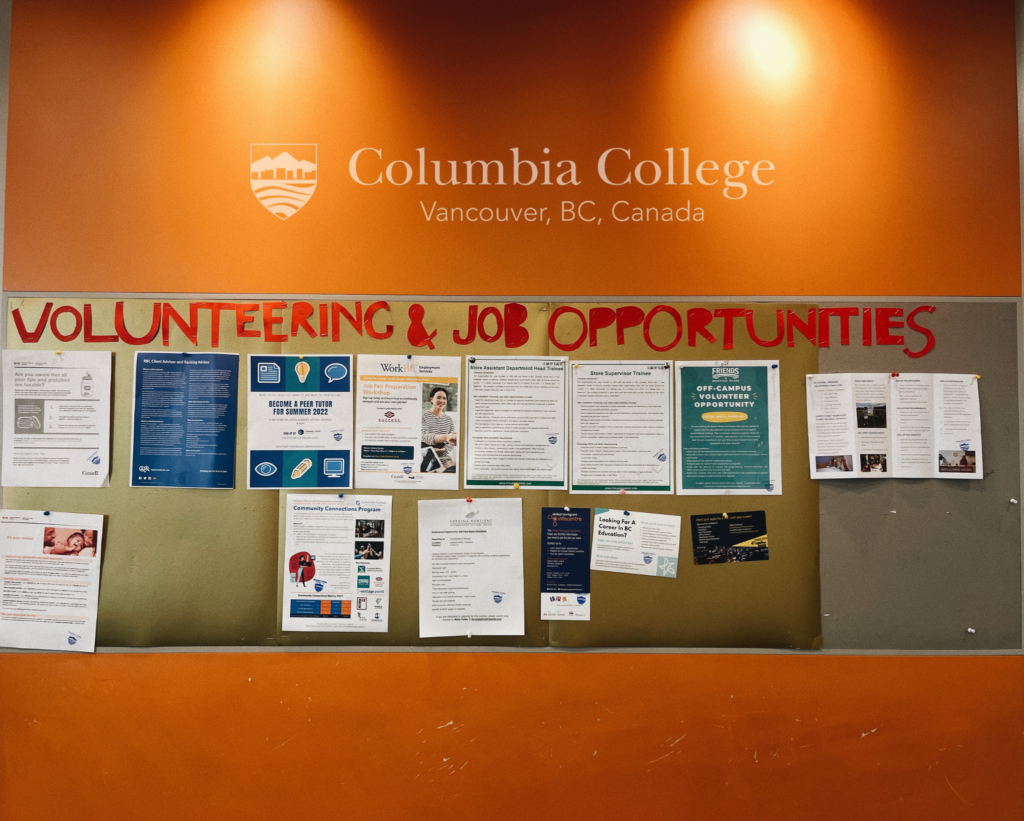 Head to the 3rd floor of our Main Campus and check out our job board for the
latest on & off campus opportunities! This board will be updated throughout the semester with new opportunities for students!
Career Services for CC Students
• Resume and cover letter improvement
• Career and employment-themed workshops (networking, enhancing interviewing skills, job search techniques etc.)
• Assisting students in identifying their career goals through formal and informal assessments
• Mock interviews to help prepare students for the job market
• Connecting students to resources to enhance job search strategies
• Building an online presence through LinkedIn
• Creating and finding networking opportunities for students
Employment Opportunities for Students
Current job openings in the community.
Volunteer Opportunities
Explore current opportunities in the community.
International Young Professionals Series by Columbia College
Useful links and resources
Need more information to help you as you develop your job search strategies? Here are some useful links and resources!
Jobs and Career Options During the Coronavirus Pandemic with Job Bank Canada
Find available jobs, tools and government resources to help you navigate the world of work during the pandemic
Career self-exploration and planning program that assists students with finding the right career, exploring different career options, and planning future education and training. 
Username: columbiacollege
Password: careers
Online professional social media platform 
Build and expand your online presence by connecting with professionals, classmates, alumni and anyone you have connected!
Job market research tool that tracks Canadian job market trends by collecting and analyzing information from millions of Canadian job ads found online 
Worxica answers questions like: How many job postings were advertised in the past year in your selected occupation? Who was hiring?  What skills and certifications did they require? How much did they pay? 
Great for career exploration; allows students to see the annual salary and requirements for each job. 
Easy to use and features informative videos.
Information is all local and based in British Columbia.
Official site by the Canadian government; you are able to search occupations based on wages, education, skills, and outlook.
Provides a NOC code (National Occupational Classification) for each occupation.
Also provides some job postings based on occupations.
Informed education choices early in life can help you obtain the skills and experience necessary to find work quickly, avoid unnecessary debt and get a better start to your career.  
This resource offers recent graduate data across Canada for all fields of study
Provides interview videos of individuals established in their field. 
Great source of inspiration for students who are unsure of their career plan to watch / listen to established people in their industry.
Informal self-assessments available for students.
Based on abilities, work preference, and subjects.
Easy to use and great for students to get an idea of which occupation suits them.
Find your NOC (National Occupational Classification)
NOC (National Occupational Classification) code is the number the job is listed under in Canada's official job classification system.  There are 5 skill level groups (0, A, B, C & D).
PDF version of the British Columbia Labour Market Outlook: 2019 Edition
Students will be able to view a 10- year forecast of job openings throughout BC and which jobs are in high demand.
What Can I Do With a Degree in..
A great tool for students who want a better understanding of the potential degrees that they may be pursuing.
Students will be able to understand the potential working environments and occupations related to each degree
Skills for the Future Workforce
Students will be able understand which skills are needed to succeed in BC's future workforce.  
An interactive website for students to determine where they are in their job search
Revenue Canada's P105 Students Help Page
Information on filing income tax return for students
You may be eligible for help at a free tax clinic if you have a modest income and a simple tax situation
The deadline to file your return and pay your taxes is April 30, 2021
For the 2021 tax season, many community organizations are hosting free virtual tax clinics. Volunteers may be able to complete and file your taxes for free, by videoconference, by phone or through a document drop-off arrangement.