Columbia College's High School programs are certified by the Province of British Columbia. Students hoping to gain admission to a Canadian university will be academically well-equipped when they graduate from one of the College's High School programs.
Columbia College offers four distinct High School program options. Note that only completion of the Senior Secondary Program will allow a student to be eligible for direct entry to a university, while successful completion of the other programs will allow a student to enter the University Transfer Program at Columbia College.
Senior Secondary (Grade 10, 11, 12)
Open to students who have satisfactorily completed Grade 9, 10, or 11, or the equivalent. Upon completion of the program, students can apply for direct university admission. The college's 14-week semester system allows students to complete programs more quickly than a regular high school.
Accelerated Secondary (Grade 11 & 12)
Students with strong results in academic courses at the Grade 10 level and who do not wish to obtain the BC Certificate of Graduation (Dogwood Diploma) can choose to enter the Accelerated Secondary Program in order to enter the University Transfer Program at Columbia College.
Adult Secondary (Grade 11 & 12)
This BC Ministry of Education program is for students over the age of 18 and provides a quicker route to graduation and university-level studies at Columbia College. Students receive a BC Adult Graduation Diploma (Adult Dogwood Diploma) upon completion of this program.
University Preparatory
Suitable for students who have graduated from High School but who lack certain academic qualifications for direct admission into the University Transfer Program. Following successful completion of the University Preparatory Program, students may continue in the College's University Transfer Program.
Transfer Standing
Many students are eligible to receive "transfer standing" (TS) credit for courses taken before entering Columbia College. TS will be granted for courses that are considered equivalent to the established provincial- or board-authorized course.
An overseas student who transfers into a High School Program may be eligible for advanced placement at the Grade 11 or 12 levels if TS credit has been granted in the prerequisite Grade 10 or 11 course.
Transfer standing for a Language 11/12 will be granted as specified by the Ministry of Education. Transfer standing will be awarded only if official final results are presented.
---
Dual Credit
The BC Ministry of Education allows students to take courses at recognized post-secondary institutions and count these courses as four-credit non-subject-specific grade 12 courses towards completion of the requirements for high school graduation while, at the same time, receiving full university transfer credit.
Students studying in a High School Program at Columbia College may be allowed to register in a university-level course and, upon successful completion, be granted credit for both the university course and a secondary course at the grade 12 level. (The latter will be recorded as PSIAD 12, not a specific subject, on transcripts.) A "dual credit fee" will be assessed in such cases.
---
Trimester System
Columbia College students benefit from three start dates a year, with intakes in January, May, and September. This means you can take more courses over a 12-month period, moving through the program more quickly than a linear system.
Students will have a 3-4 week break between semesters.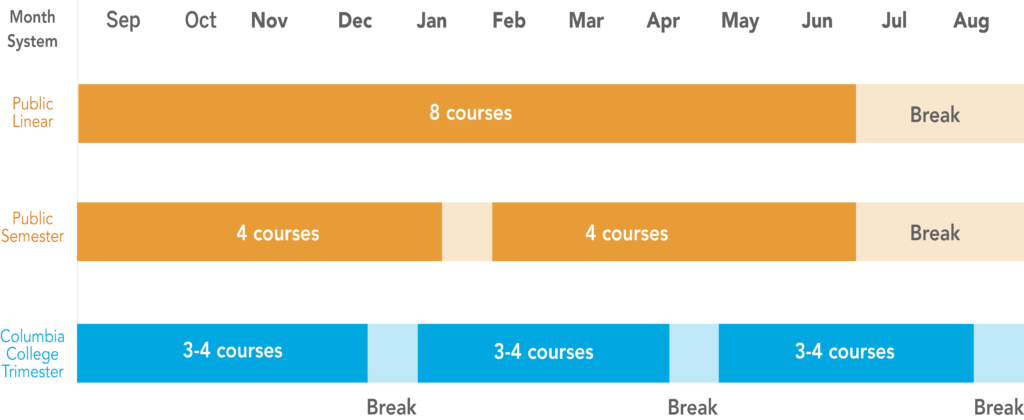 Check out the 2020-2021 High School Viewbook!