This program is not offered starting January 2021.
*Please note that English 097 is still being offered.
Begin English at your level
You will be placed at the English level that is right for you before entering a high school or university program. You can take a high school or university-level course at the same time based on your English level.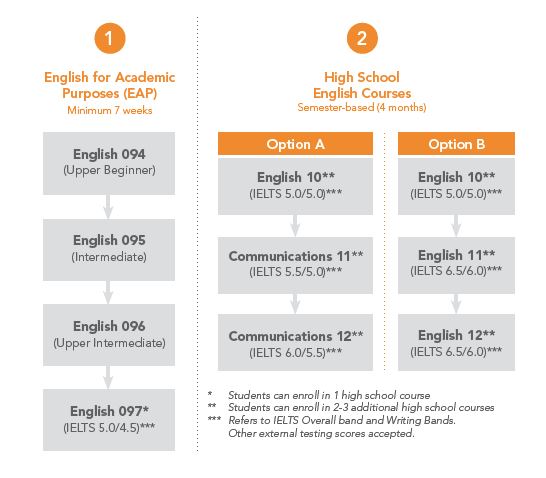 English Language Centre (ELC)
The Columbia College English Language Centre (ELC) is for students wishing to improve their English in an academic setting. Students in the ELC have full access to Student Services and college facilities. Programs are offered part-time or full-time (25 hours a week), and cover core skills such as listening, speaking, reading and writing, plus additional elective courses.
Programs start six times per year with a minimum program length of seven weeks. Once you progress beyond English 097, you can begin registering in high school and university-level programs, and advance further into high school and university-level English.
Students do not need to submit external language scores, as Columbia College offers its own language tests. Our Language Programs are proudly accredited by Languages Canada.
Program Start Dates & Levels
There are six start dates per year, and the minimum program length is seven weeks. All new students take a placement test before starting classes, and are placed at one of the following levels:
English 094 (Upper Beginner)

Improve communication skills through systematic speaking and listening practice.
Develop basic grammar patterns and high-frequency vocabulary for everyday contexts.
Engage with other international students to gain experience in a Canadian school setting.

English 095 (Intermediate)

Extend vocabulary and knowledge in grammar through thematic units.
Begin learning about writing in academic contexts.
Develop independent reading skills and extend guided reading speed and fluency.

English 096 (Upper Intermediate)

Enhance critical thinking and organizational skills.
Develop academic writing strategies and awareness of form.
Participate in field trips and projects which augment target grammar and content.

English 097 (Advanced)

Enroll in a choice of skills-based electives.
Prepare for future academic success.
Expand composition skills into full-length essays.
Co-register in an university or high school course (see an advisor for details).
Each level is normally completed within 14 weeks although some students may complete a level within seven weeks.
To view the EAP academic schedule, click here.
Click here to view the list of EAP courses.