Logging into your College Email:
For Current Staff and Faculty, and Current Active Students:
 https://outlook.com/owa/columbiacollegeca.mail.onmicrosoft.com
---
Email Setup for Mobile Devices:
For iPhone/iPad:
Note: We recommend to use Microsoft Outlook app for iOS https://apps.apple.com/ca/app/microsoft-outlook/id951937596 Please see instructions for Android devices.
1. If you have setup email from the college, you will need to remove the settings before proceeding. If you don't, proceed to step 2.
Go to Settings
Scroll down and tap on Passwords & Accounts
Tap on the Columbia College account that you want to delete
Tap the Delete Account button that appears at the bottom of the screen. Make sure you scroll to the bottom of the window to look for this Delete Account button.
Go back to your home screen
Once deleted you can proceed with the next steps.
2. When you add your Columbia College Exchange account, you can sync your Mail, Contacts, Calendars, Reminders, and Notes with your iOS device.
Add your Exchange account
Tap Settings > Mail, Contacts, Calendars > Add Account > Exchange
Enter your information
Enter your email address and password. If you want to, you can also enter an account description.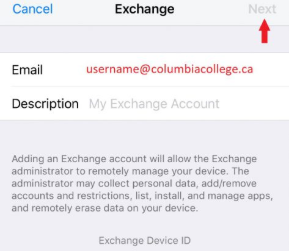 For Android Devices:
Note: Please use Microsoft Outlook App for Android https://play.google.com/store/apps/details?id=com.microsoft.office.outlook&hl=en_CA
1. If it's your first time using Outlook for Android, enter your full email address, then tap Add Account.
If not, open the Menu > tap Settings > Add Account > Add Email Account.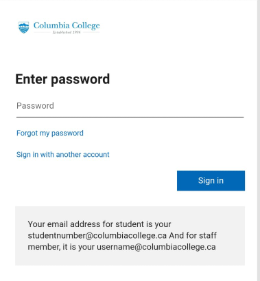 ---
If you are experiencing any issues logging in or connecting to your College email, please contact [email protected] or see IT Services in Room 413 (Main Campus).