Students enjoy the stunning natural beauty of Vancouver, one of the most spectacular cities in the world, as well as one of its cleanest and safest. Despite the modern urban setting of the city itself, Vancouver is enveloped in a natural setting of extraordinary mountains, lush forested areas and the North Pacific Ocean.
Vancouver is one of the few places in the world where a morning can be spent on the beach, with the same afternoon spent enjoying snow sports less than 30 minutes away. This is one of the reasons why Vancouver is so frequently ranked in the top 10 most desirable cities to live in the world. Public transport makes exploring and commuting to and from your studies simple and safe, with frequent and well situated bus routes and SkyTrains running from dawn until dusk.
Vancouver has the mildest climate of any major city in Canada, but the weather can be unpredictable. Vancouver can see a great deal of rain in the winter, but during the summer months Vancouver gets less rain than most other Canadian cities.
Temperatures: From January to May: 6 °C to 18 °C

Temperatures: From May to August: 17 °C to 24 °C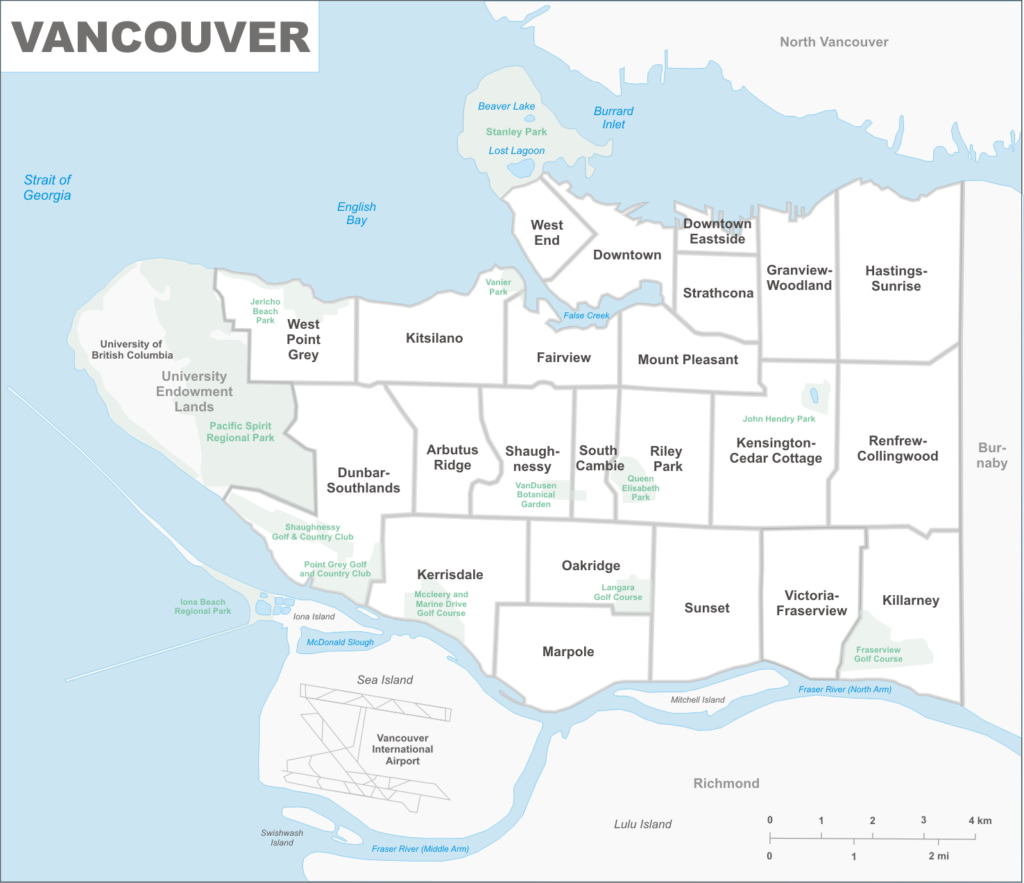 Columbia College is located in front of the Pacific Central Station in Strathcona, Vancouver's oldest residential neighbourhood. It is bordered by Chinatown to the west, Clark Drive to the east, and Canadian National Railway and Great Northern Railway classification yards to the south.
Vancouver's public transportation is both efficient and convenient. The Translink system includes buses, the SeaBus ferry and the SkyTrain (light rail), all of which are ecologically friendly, reliable and inexpensive.
Types of transit

Bus

Translink's bus routes connect directly with the skytrain and seabus right at the stations. buses operate seven days a week. check translink to plan your trip.

SkyTrain

SkyTrains run across the Metro Vancouver region, including to and from Vancouver, Burnaby, New Westminster, Richmond, Vancouver Airport and Surrey. The SkyTrain provides daily service every two to five minutes but does not run throughout the night.

SeaBus

The SeaBus is a passenger-only ferry that travels between Vancouver and North Vancouver. The SeaBus links with the SkyTrain and buses in downtown Vancouver at the Waterfront Station. It operates daily every 15 to 30 minutes. Bikes are welcome on the SeaBus.
For more information on bus routes, schedules, and more, contact Translink Information at 604-953-3333 (6:30 a.m. to 11:30 p.m.) or online at www.translink.bc.ca.
All Columbia College students must pay adult fares on transit (even if you are under 19 years of age)unless you are a full-time high school student, in which case you can obtain an orange concession card.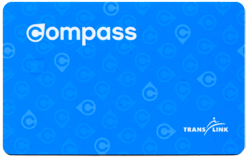 Compass: Load. Tap. Ride.
Compass is a reloadable fare card that works everywhere on transit in Metro Vancouver. It's convenient, easy to use, and provides discount fares. You can load fare products onto one card and tap your way across the system. Click here for more information about Compass cards.
Where to Buy Compass Cards and Tickets
You can buy a Compass Card at the following convenient locations:
Compass Vending Machines (CVMs)* located at:

SkyTrain, SeaBus, and West Coast Express stations

BC Ferries Tsawwassen and Horseshoe Bay terminals

At 18 London Drugs locations across metro Vancouver

Online at compasscard.ca

By calling 604.398.2042

Compass Customer Service Centre at Stadium–Chinatown SkyTrain Station
*Concession Compass Cards are not available for purchase at CVMs.
Compass Vending Machines accept cash, credit, and debit. Online payment and AutoLoad enrollment can be done with Visa, Mastercard, Visa Debit, and Debit Mastercard. It can take up to two hours for your Compass product to be available for use. If you purchase fare products at a CVM, they'll be available for use immediately.
Here is everything you need to know about setting up a bank account and transferring funds from your country.
To get a cell phone plan in Vancouver, you need to have two pieces of ID. You passport is mandatory to get a cell phone plan. The second piece of ID could be anything from a government issued ID card, your Study Permit, a Social Insurance card, or a valid credit card under your name.
Make sure you have your accommodation letter (or rental agreement) as a proof of address. Without proof of address, phone companies usually will not activate your cell phone plan.
A good option for short-term students is a monthly plan without contract. A lot of phone companies offer exclusive student plans which are usually cheaper and better. We advise you look into the student plans different phone companies have to offer before making your decision.
You can choose between Prepaid and Postpaid. The difference? With a Prepaid Plan, you pay first and it runs out after 30 days. Your phone service will stop working unless you add more money. With a Postpaid Plan, you use your service first and pay later. Be careful, your phone service won't be cut off, so your bill will continue to increase! Not paying your phone bills on time can affect your credit score. If you choose a postpaid plan, make sure to check the fine for late payments with your phone company.