Vancouver, February 28, 2023 – Columbia College is proud to present the fifth annual LIMITLESS Conference, taking place at 438 Terminal Avenue, Vancouver on March 17, 2023. This year's event will feature Speaker of the Legislative Assembly Raj Chouhan, Attorney General Niki Sharma, Human Rights Commissioner Kasari Govender, Social Entrepreneur and Health Activist Sukhmeet Singh Sachal, and more. The theme for this year's conference is: "Innovative Solutions for Emerging Challenges". During the awards ceremony there will also be a special announcement of new funding for students with backgrounds as refugees.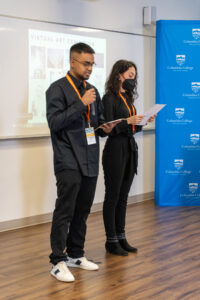 At this unique event, international and newcomer youth will share research work and academic projects with their peers and community partners in a supportive public setting.  As Canada's longest established international not-for-profit college, Columbia College s takes pride in giving young people the space to explore the ideas and values that will shape their aspirations, with the confidence to speak up and be heard. Since 1936, the College has actively equipped students to become global citizens of the world. Founded by staff and Instructors at Columbia College, LIMITLESS is BC's first and only conference exclusively for international students.
The conference features keynote speeches from inspiring leaders, varied workshops, a Career Fair, and the opportunity for attendees to watch their fellow students present on subjects that they are passionate about. 
All participants and presenters at the conference are international students. For most of them, participating in LIMITLESS  is their first opportunity to prepare and deliver a public presentation on a topic they have researched. Harsh Sharma, LIMITLESS 2022 Student Presenter describes his experience last year: "LIMITLESS is a life changing experience and the preparation that a student does for the conference day and academic submissions is mind-blowing. LIMITLESS enhanced my public speaking skills and expanded my knowledge of different subject matters." Each student gets unique exposure and by the end of the day every student feels confident using their voice for a better future.
College partners and supporters are encouraged and welcome to attend the event. Members of the media are also encouraged to attend the awards ceremony at the end of the day, between 3:30pm – 4:00pm, for the special funding announcement directed at programs for students fleeing conflict and who have faced forced displacement.
Please direct media inquiries to Mark Friesen, Executive Director, via email: [email protected]
To learn more about LIMITLESS, please visit our website.