Indian Healthy Flavours
February 13, 2021 @ 5:00 pm

-

6:30 pm

PST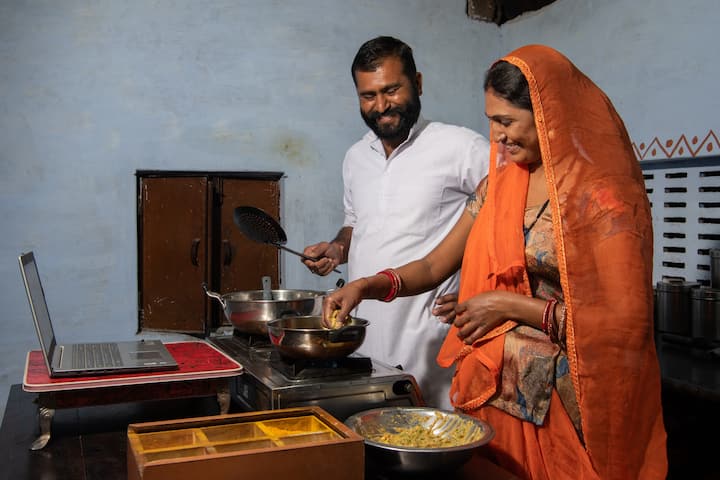 *This activity is for all students – regardless of program!
Sign up here! Registration deadline: Friday, February 5, 2021 at 4 pm
Learn authentic and incredible cooking with Chhotaram and Mamata (@mamatascooking) from Jodhpur, India! You will be learning online how to cook easy, healthy and delicious vegetarian/vegan friendly Indian food with minimal ingredients. This online experience offers you a unique opportunity to submerge yourself in authentic Indian food culture!
Meet your host:
Namaste! I'm Chhotaram Prajapat and I'm a textile artist from a small village near Jodhpur, Rajasthan, India. In 2009, me and my wife Mamta decided to start Chhotaram Prajapat's Homestay and share our home and our culture with national and international tourists. So far more than 8000 guests have stayed at our homestay.
As most of our guests really enjoy our home cooked food, we have decided to share our best loved recipes with the connected world. Do join our class, learn a new recipe and cook a wonderful vegetarian/vegan Indian meal for your friends and family.
What to bring:
If you're not cooking this time, be sure to have some food and a beverage to enjoy while you join the class.
Few vegetables (details will be shared)
Whole & ground spices (details will be shared)
Cooking pots & pans with stirring spoons
Rolling pin, tongs & flat pans (to make flat breads)
Tips & Tricks:
Have reliable internet connection
Find a private, quiet location
Bring headphones if you can't find a quiet location
Prepare to have your video and audio on!
Make sure you have the latest version of Zoom
Event Reviews:
Antonia (January 2021) Fantastic cooking class. Flavours are amazing so authentic. Chhotaram can suggest substitutions to ingredients readily available if you cannot get what is on the list.
Sabrina (January 2021) The class is fast paced (3 dishes in 90 minutes!) so make sure to leave plenty of time in advance of class for prep. Thank you to the lovely hosts for a great time and delicious food that we will make again!
Seun (December 2020) I enjoyed learning about Indian agriculture and cooking. Time well spent!
Chris (December 2020) An excellent cultural experience right in your own kitchen! Take the time to prepare your ingredients and cookware before hand! Strongly recommend.
Event Details:
When: Saturday, February 13, 2021
Time: 5:00-6:30 PM
Where: One week prior to event, we will send registrants the Zoom link and ingredients details
Sign up here! Registration deadline: Friday, February 5, 2021 at 4 pm