Moroccan Home Cooking
April 17, 2021 @ 10:30 am

-

12:00 pm

PDT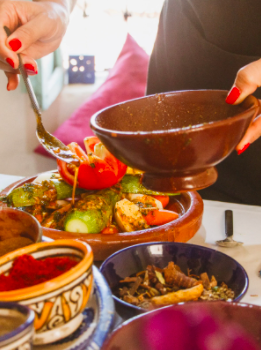 Get insights into Moroccan cooking secrets and ingredients in this hands-on class! You will learn the best tips for cooking authentic Moroccan food at home. You will be welcomed into the host's family like old friends, and we will prepare together a traditional Moroccan starter & Moroccan tajine using a normal cooking pot. Ingredients will be shared with you after you sign up, so you know exactly what to prepare in time. If you need a vegetarian/vegan option, please make sure to inform this on the sign-up form and you will receive the replacement ingredient closer to date. Sign up by Wednesday, April 14, 3pm. 
What you need to participate
Ingredients you need to prepare for the cooking class (per one person):
Equipment: Moroccan tajine (if you have) or a regular cooking pot, 1 pan, 1 pot or cooker for boiling, chopping board and knife, a teaspoon, a colander/strainer, a grater, a fork, and 2 bowls
Meat: Chicken (legs/wings/breast) *For vegetarians, the chicken can be replaced with cauliflower or tofu.
Vegetables: 1 potato, 2 tomato, 1 carrot, 1 zucchini, 1 onion, 1 aubergine/eggplant (medium size)
Fruit: 1 preserved lemon or 1 regular lemon
4 tablespoons of chopped parsley and coriander
Spices: Salt, black pepper, sweet or smoked paprika, curcuma (turmeric), Ginger powder, cumin, ras el hanout (optional), safran (optional), garlic (1 head of garlic or 8 cloves of garlic)
Olive or sunflower or vegetable oil
The chef of this cooking class: Kawtar! She is a Moroccan traveler who likes to learn about other countries' cultures and history, and try local food. Check out her Instagram page!