Summer 2020 Spirit Week
June 30, 2020

-

July 3, 2020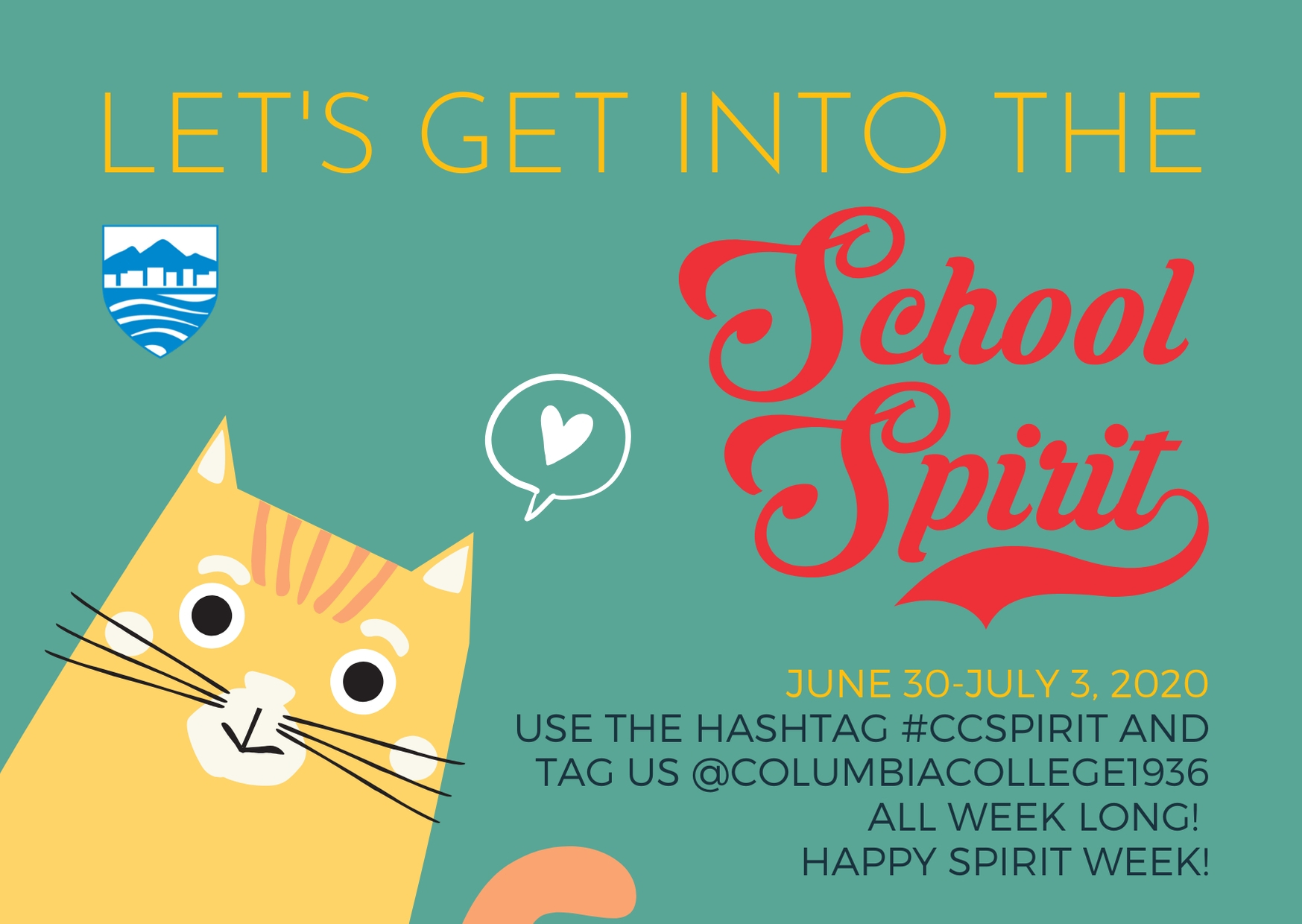 SUMMER 2020 SPIRIT WEEK is here!!! ?
Physical distancing does not have to mean social distancing! We are only a hashtag away. Let's show some school spirit and bring our CC community together through spirit week. Use the hashtag #ccspirit and tag us on Instagram all week long!
Tuesday, June 30 – PET DAY

Do you live with a pet? How about back at home? Are you an animal-lover? Make a post about your pet(s) or a pet you'd love to have, or post a story on Instagram at any time of the day. Hashtag and tag us so we know all about it. Meet us at 7PM on Zoom where we are hosting our own show-and-tell, pets edition! Show us your pet, on camera or in photos, and tell us all about them. We'll share pet-care tips, show off our pet tricks, and show some animal love.

Wednesday, July 1 – CANADA DAY

Happy Canada Day! Canada is turning 153 in 2020, but history goes back 153+ years. Celebrate Canada Day with us by recognizing the Indigenous Peoples' contributions and showing nation pride. Free freezies in 4 local parks: Queen Elizabeth Park (11am-12pm), Empire Park (1-2pm), Deer Lake Park (3-4pm), and Bear Creek Train Park (5-6pm). Find us at the park at our Columbia College table to get your freezie! Bonus points if you come wearing RED for Canada Day! Safety measures will be in place to ensure physical distancing.

Thursday, July 2 – WELLNESS DAY

What are you doing these days for your wellness? How are you taking care of yourself? Some believe this is the time to relax and catch up on sleep. Others say it's time to get up and pick up an active hobby! Post a story with your self-care tip and tag us. Come along on our self-care journey on Thursday and see what else you can put into your day.

Friday, July 3 – FOOD DAY

Calling all chefs and food-lovers! Send us 1-2 photos of your specialty dish. On Friday, join us on Zoom at 7pm to share your recipe and vote for your favourites. Audience members also welcome! The fan favourite will win a reward – a prize you can use in the kitchen!
Let's go CC! Bring your school spirit and let's show the world what we're made of!