Summer 2019 – Mental Health and Wellness Week
June 24, 2019

-

June 28, 2019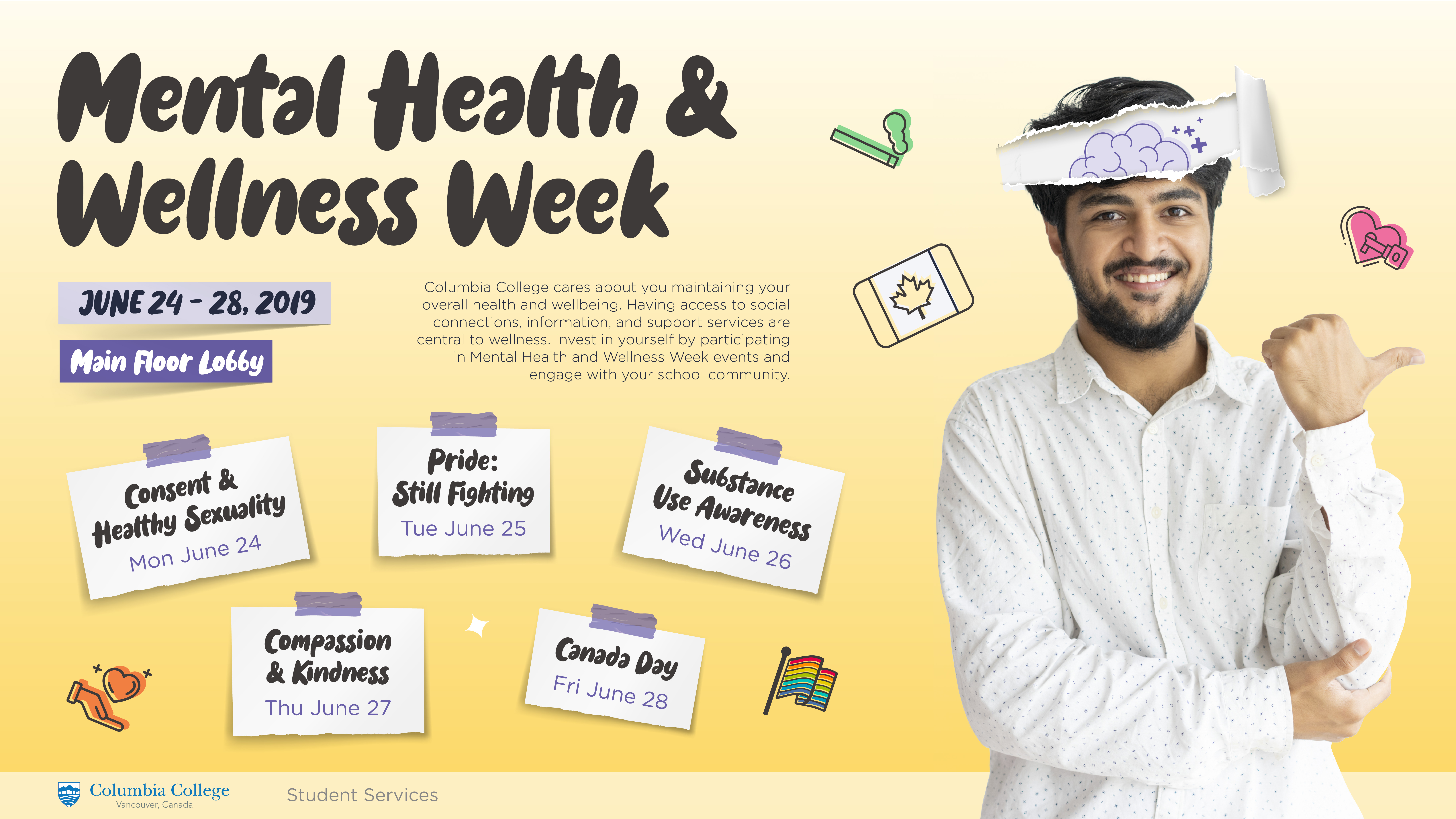 Consent and Healthy Sexuality
Monday, June 24 – 11 am – 1 pm
Main Floor Lobby
What do you know about consent? Find out more about healthy sexuality, relationships, and communication over a cup of tea and biscuits. Pick up resources that will help you practice safe sex.
Pride: Still Fighting
Tuesday, June 25 – 11 am – 1 pm
Main Floor Lobby
Dress in rainbow colours to show your support for the LGBTQ+ community! Learn more about inclusivity, advocacy, and diversity. This year's Pride theme is: Still Fighting, as we continue the fight for LGBTQ+ equality worldwide.
Substance Use Awareness
Wednesday, June 26 – 11 am – 1 pm
Main Floor Lobby
Can you differentiate substance use myths from facts? Come and grab a healthy snack, and learn about the dangers of substance use and addiction, and how to keep yourself safe.
Compassion and Kindness
Thursday, June 27 – 11 am – 1 pm
Main Floor Lobby 
Show kindness and compassion for yourself and others! Add a message to the kindness wall to spread positivity throughout Columbia College!
Canada Day!
Friday, June 28 – 11 am – 2:30 pm
Main Floor Lobby
Come celebrate Canada Day with Canada themed snacks, games, prizes, and more! Pose at the photo booth and celebrate what Canada means to you!
Related Events