2 events,
Remember to wear your orange shirts!
Weaving Workshop with Squamish educator Anjeanette Dawson 25th at 4 pm in the library. Participants will weave a small bag while learning the history of wool weaving and its revival in the Squamish community. Registration is limited: please contact [email protected] to register.
2 events,
Nisga'a educator Dawn Naas will share photos of her family's experiences in residential schools and the poetry she's written to help her process intergenerational trauma. Date: September 26, 1 pm & 3 pm Location: In the Library.
3 events,
Discover the magic of live theatre with Bard on the Beach, a not-for-profit, professional Shakespeare Festival nestled in the scenic Sen̓áḵw/Vanier Park. Step into a world where Shakespeare's timeless tales are brought to life in a contemporary and captivating way. 🚀 Experience Shakespeare for the 21st Century Bard on the Beach reimagines classic Shakespearean works, …
Student Life Event: As You Like It at Bard on the Beach Read More »
Plant walking tours with Lori Snyder, Métis Herbalist & Educator. Date: September 27, 12:15 pm & 2:15 pm Location: Meet in Trillium Park. For more details contact [email protected]
2 events,
Health educator Brandon Redford (Driftpile Cree Nation) will lead a talk on "Indigenous Canada: An introduction to the social and historical context of the First Nations, Métis and Inuit people". Date: September 28, 12 pm & 2 pm Location: In the Library
2 events,
"A Celebration of Resilience": experience Indigenous entertainment and refreshments. Date: September 29, 4-8 pm Location: TBD
1 event,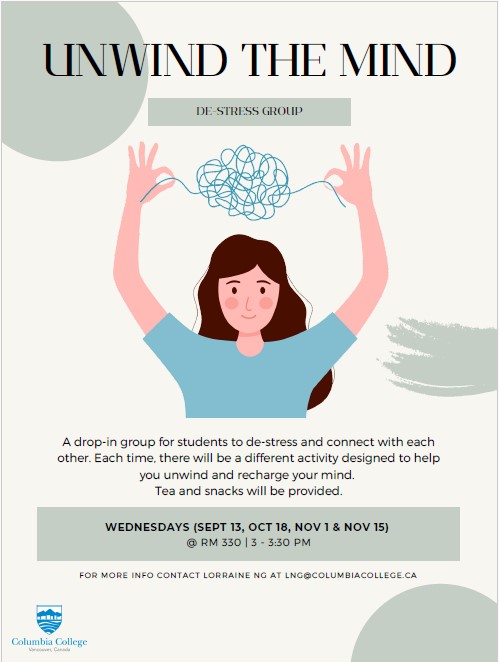 Come join us to UNWIND THE MIND! Unwind the mind is a  drop-in group for students to de-stress and connect with each other. Each time, we will be having a different activity designed to help you unwind and recharge your mind. Tea and snacks will also be provided. Time: 3 - 3:30 PM Location: Room 330
1 event,
Event details: Saturday October 21, 2023 Time: 8:30AM-4:30PM Apply for your chance to receive free dental care by completing the Medical Dental Form & sending it to [email protected]  Application deadline is Friday, September 22, 2023 - applications received after the deadline will not be considered.
1 event,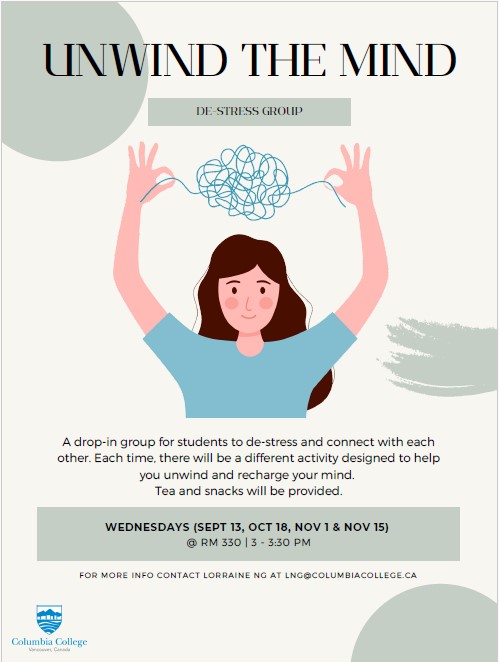 Come join us to UNWIND THE MIND! Unwind the mind is a  drop-in group for students to de-stress and connect with each other. Each time, we will be having a different activity designed to help you unwind and recharge your mind. Tea and snacks will also be provided. Time: 3 - 3:30 PM Location: Room 330